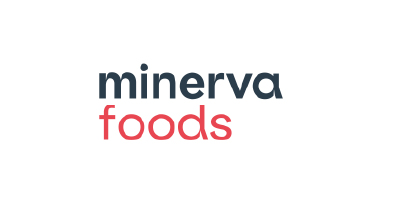 Minerva Fine Foods is the Brazilian brand used by the Minerva Foods group to operate in the processed meat segment in Brazil..
Ever since its conception up to the construction of its industrial facility in Barretos – SP, everything was thought over to offer the best and most modern in animal protein based solutions.
Using a flexible layout that allows the combination of different preparation processes, baking (in steam, water or hot air-continuous lines), freezing and packaging, we can produce an extensive line of products.
The unit has 14,000m² of constructed area for production, plus an area of 1,200m² for innovation, training and laboratories.
Thus, Minerva Fine Foods has the know-how, technology and experience to create, develop and produce products based on fresh, cooked, roasted and grilled meats, poultry, pork and bovine using a variety of process technologies, always according to the requirements and needs of each client. Therefore, designing and developing are the keywords within the Company's working philosophy.
produtos de qualidade
Conheça nosso
catálogo de produtos Minerva
fine foods
QUALITY PRODUCTS
Meet OUR
MINERVA PRODUCTS CATALOG
FINE FOODS
Quality Assured
Minerva Fine Foods has a rigorous quality system, which ensures the control of all stages of the process and also of the manufacturing environment, and meets the HACCP (Hazard Analysis and Critical Control Points) principles from the Brazilian legislation and from the main importing countries. That system is permanently audited by clients and certified by the BRC (British Retail Consortium), one of the most rigorous production regulations in Europe.
Our products are released and delivered to customers only after microbiological analysis, confirming that all stages of the production process followed the most rigorous quality control standards.
Innovation
Minerva Fine Foods has an extensive and diverse line of products, and still, is fully prepared to develop and work on exclusive products, according to the specifications of each customer. They have a dedicated team, with experience to design and develop the best solution for your business.
Sales Channels
Minerva Fine Foods has a sales team dedicated to serving all market segments: fast food chains, restaurants, snack bars, industrial kitchens, school canteens, hotels, hospitals and clubs. They also operate in school supply and in industries that use cooked meats in their products, such as ready meals, pizzas, stuffed pasta, sauces and sandwiches.
GET IN TOUCH WITH US
Minerva Fine Foods

We are always open to listen to you. Get in touch via our phones or send a message.