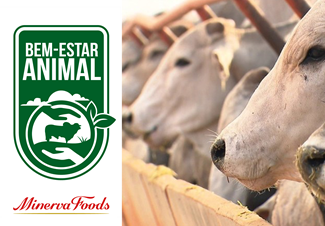 We have restructured our Animal Welfare area (BEA), dedicated to ensuring that the animals that make up our production chain are treated with care, dignity, and respect. The objective is to strengthen even more the actions already existing in our DNA, however, making the management increasingly sustainable, reinforcing the standardization and modernization of humanitarian management methods.
With the new structure, the Animal Welfare area will have dedicated employees in all industrial units, a corporate coordination and a multidisciplinary technical committee of Animal Welfare, formed by members of the senior management of the Company and areas such as: Sustainability, Cattle Purchase, Cattle Transportation, Quality and Communication. Another recent change was the creation of the Animal Welfare Seal, with the objective of identifying all activities and collaborators directly involved in the processes.
On a daily basis, the area's performance will be to facilitate the understanding of the procedures for the operation, management of indicators, in addition to training and support to employees.
"We need to ensure compliance with legislation, criteria, but above all, disseminate our Animal Welfare Policy and make everyone understand, even more, our culture of care and respect for animals," reinforces the Animal Welfare Coordinator, Tâmara Duarte Borges.
Here, at Minerva Foods, the actions of the Animal Welfare area go beyond complying with the norms and legislation, as explained by our Sustainability Director, Taciano Custódio.
"We follow the strictest international standards in our practices to ensure that animals are well treated. We have a well structured Animal Welfare program, with specialized professionals and based on zero tolerance control for acts of abuse, negligence or mistreatment, from boarding, transportation, landing to humanized slaughter in our plants", he says.